GRANITE SERVICES
GRANITE IS OUR MEDIUM.
YOUR IMAGINATION IS OUR INSPIRATION.
INSTALLATION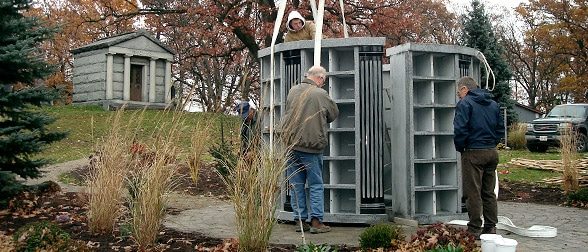 As experts in granite installation, we have installed many odd and unusual works for both monument dealers and architects. We are able to solve complex logistical challenges while providing peace of mind to our clients. Our knuckle-boom crane truck enables the safe, efficient and smooth delivery of our granite products, including monuments and architectural landmarks. Once the granite has been delivered, we take great care to integrate it seamlessly within its new environment, whether a cemetery, a high-traffic municipal space, or another setting.
REPAIR
Working with advanced tools and many years of hands-on experience in stonework, our talented in-house team performs repairs to any scratched, chipped or damaged granite in both monumental and architectural applications. This highly intricate process begins with a careful assessment of the damage and the properties of the specific granite, which helps us achieve a seamless granite restoration. Having a variety of tools at our disposal—including polishers, profiler/grinder, wire saw, sandblaster and blade saws—we can reverse any type of damage or degradation.
LASER ETCHING
At HGH, we utilize a mixture of artistry and technology to achieve stunning, durable results with laser etching. Our state-of-the-art machine is capable of bringing highly intricate designs to life on 48" x 96" pieces of polished granite—a process by which a fine layer of the stone's polish is removed to reveal a lighter hue beneath. With this level of detail we can produce photorealistic images for truly one-of-a-kind granite monuments or custom architectural features.
SANDBLASTING
We also have automatic sandblast booths at our facility for precise, cost-efficient lettering and carving at whatever depth you require. Compared to laser etching, this method allows for the use of a much wider variety of granites, since the impression can be easily painted for emphasis. This versatility, coupled with the almost endless array of lettering options, makes sandblasting an ideal inscription method for landmarks, memorials, and commercial and residential signage.