Losing a loved one is one of the most difficult things to go through in life. However, many find solace in being able to visit them at their final resting place. While they won't be able to respond or hug their visitor, it is nice to know that they are at peace and that there is location to go to when wanting to reminisce about the times that they shared together. For centuries, this was usually a burial plot or mausoleum, however in the last couple of decades, cremations have been on the rise. This has caused many cemeteries to consider investing in columbariums. In this blog post, we will discuss the benefits that columbariums provide. 

HGH Granite is here to help. As a leading granite supplier in Ontario, we have a wide variety of granite for our customers to choose from and the experience you can rely on. If you have any questions for us then don't hesitate to contact us today or go ahead and request a quote for the granite that you are in need of.
Less Maintenance
As any owner of a cemetery knows, it is quite pricey to ensure that the grounds are in their best condition. The lawn needs to be properly watered as well as mowed, not to mention that at a burial cemetery, there is often a cost for excavation equipment and permits. With columbariums, there is very little cost after you have it installed. Made from the innately beautiful granite, there is hardly any maintenance required since it is so incredibly durable. All it will need is some general cleaning. 
Meet the Cremation Market's Needs
As we stated earlier, cremations are becoming much more popular year after year. In fact, statistics show that the cremation rate has been rising at a staggering pace. In 1975, the rate was only at 5.69%, skip ahead to 2018 and that percentage has jumped all the way up to 53.1%. It is assumed that the rate will only continue to get higher in the coming years. While there are a fair share of people that would like their remains to be scattered in a special place, many would prefer to have a secure place for their ashes to be. Many families find themselves unsure of where to put the ashes of their loved one, and unfortunately, this sometimes means that the urn gets put into a closet or another location that likely would not have been their ideal choice for their final resting place. Give families a place for internment that is meaningful and visually appealing. 
Provide Families a Place to Visit
Families of the dearly departed need a place to visit their loved ones, whether it's to celebrate a certain memory or special occasion, or to just reflect on the memories made together. Granite columbariums give them a peaceful place to do this, especially indoor columbariums which provide privacy for those that are grieving.
Optimal Land Use
One of the biggest benefits that columbariums provide, especially to owners of large or already crowded cemeteries, is that they are so compact. While burial plots take up space that, for obvious reasons, can not be used again, columbariums have multiple niches that are at various sizes.These structures can also be added to, so if you require more room, we can add to it. As cemeteries begin to run out of room, prepare yourself through columbariums.
Architecturally Appealing
Families want to know that the one that they have lost will be put in a place that is peaceful and visually appealing. At HGH Granite, we completely understand. Not only do we have granite imported from four continents in an almost endless number of colours, but we have experience working with architecture. We have created many incredible granite architectural features and know what will be visually appealing. Whether you have a vision yourself or you would like our opinion, we'll make sure that the columbarium(s) add to the appearance of the cemetery instead of hindering it. 
Grieving after a loss is a painful time, but by having a well built columbarium will at least give them the peace of mind knowing that their loved one is in a safe place. As premier granite suppliers located in Ontario, we want to help in any way that we can. A columbarium isn't where it ends. Our family stonework business began in 1929 when Henry George Hardwick began creating custom granite memorials, which we proudly still produce today. From headstones to mausoleums, we have done it all. We also make granite architectural features, monuments, landmarks, and so much more. If you would like to learn more or already have a project on your mind that requires custom granite, then be sure to contact us today. We can't wait to show you what we can do.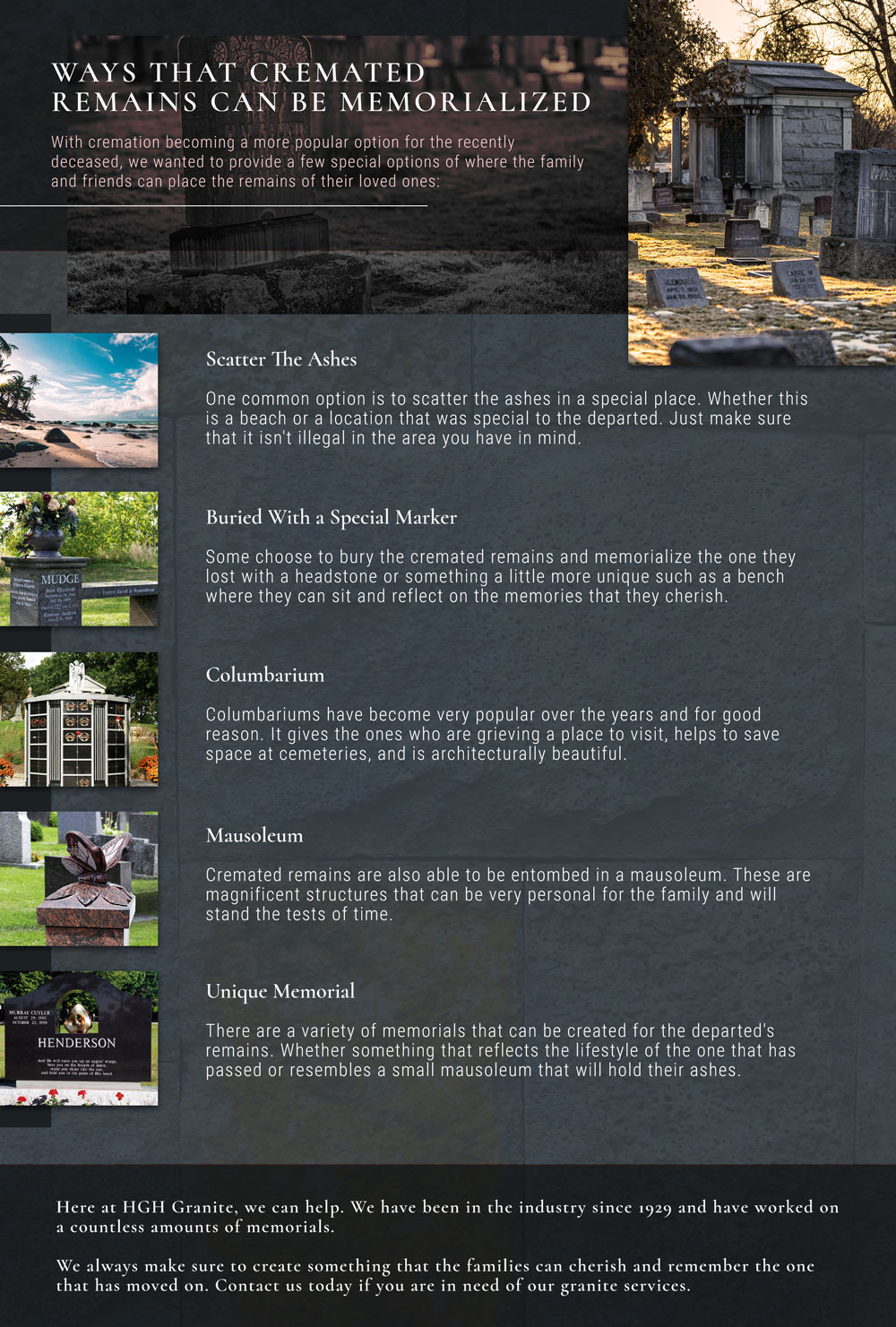 Custom Granite, Custom Memorials, Granite, Granite Company, Granite Headstones, Granite Suppliers