Granite has a romantic backstory. (And all artists love a romantic backstory!)
Made up of quartz, mica and feldspar, it comes from crystallised magma cooled deep beneath the earth's crust.
While it's under there, it's heated and compressed to such a high pressure that it forms a super-strong interlocking structure – and it's this that gives granite its unmatchable density, hardness and strength.
Elemental and easy to work with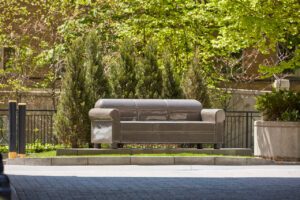 The perfect material with which to make enduring pieces of public art and streetscape architecture, wouldn't you say? Granite enables artists to imbue an artistic vision with a genuine monumental quality. While associated with the past, it also allows artists and architects to enter the future.
Take the over six-tonne granite Chesterfield sofa in Yorkville, Toronto, created by artists Susan Schelle and Mark Gomes.
We were responsible for sourcing, carving and polishing this gleaming piece of Crystal Brown granite for the artists, before their finished piece was unveiled to the public in 1998.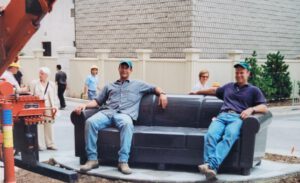 While the public aren't advised to use the sculpture as an actual sofa (it is art, after all – the picture above shows the installation process!) the piece has been sitting proudly and thrilling onlookers for almost 25 years – and counting. When polished up, granite can preserve its shine for many centuries, in fact.
It's resistant to the elements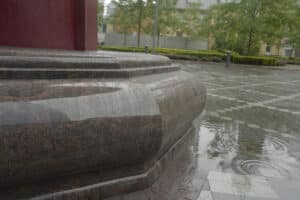 Streetscape architects and sculptors love that granite is weather-proof. Resistant to sweltering and plummeting temperatures, and that it also stands up, spectacularly, over long periods of time, to vehicular traffic and footfall.
We've worked with artists on a number of stunning public thoroughfares where heavy human traffic is the norm. Such as the graphic granite plaza at the Sony Performing Arts Centre, below left, and the giant Persian rug-style plaza outside the Four Seasons Hotel, in Yorkville, Ontario, below right – both designed by Claude Cormier + Associés.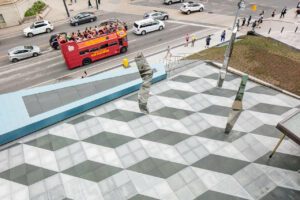 Not only do these works surprise and delight every person who steps upon them, the works themselves don't feel the strain – and aren't prone to the same wear and tear – as much as a man-made material such as precast concrete.
Granite's durability means it's a gift that keeps on giving – to the current generation and for generations to come.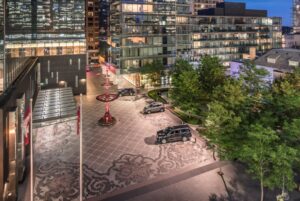 The design possibilities are endless
Granite offers so much potential for decorative beauty and creativity. Just take a look at the integrated public artwork Indigena Domain, above, which is located in front of the Cambridge City Hall in Ontario. It was created by artist Stephen Cruise and incorporates a stunning granite river and sculptural components that evoke shapes from the living world.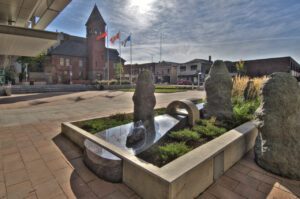 Granite has a huge colour spectrum, too – from whites and blacks to blues and pearly greys, pinks, reds and greens. We love the way granite brings elegance, ambience, character – and a sense of strength and timelessness – to any landmark or streetscape.
It's sustainable and available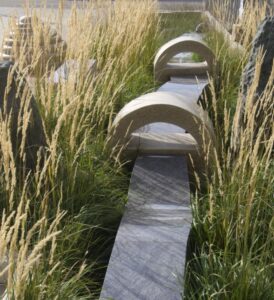 Sustainability and availability go hand-in-hand with granite, which is another big draw for contemporary artists and architects.
Work with the right granite expert with the right tools and equipment and granite is easy to grind and shape, too. It's also relatively abundant, nigh-on indestructible and considered to be an inexhaustible rock. And one more reason (for now) that it's the first choice stone for so many designers and architects to work with is? It's cost effective too. Yes, granite rocks.
Got a question about sourcing granite? A new project you'd like to discuss?
We've been providing granite services all over Ontario for the last 90 years and our loyal customers come back time and again for our experience, knowledge and artistry. We'd love to help you build your artistic vision today, too. Contact us today and the conversation can begin!