There's a saying that goes 'Punctuality is the soul of business'. 
We agree. Although we'd also add 'People' and 'Product'.
At HGH, we pride ourselves on getting our valued customers' orders to them right on time.
It's integral to the success of a project, shows respect to our customers, and is key to our own ongoing business success. 
However, it's a busy time in the world of granite right now, and we wanted to let you know that an increased demand for delivery – both domestically and internationally – is resulting in delays and increased lead times on granite.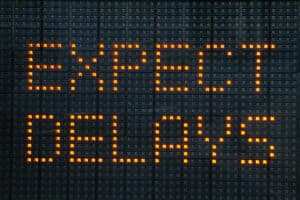 What does this look like?
Domestic orders for granite – which previously took 6-8 weeks – and international orders, which took 3-4 months, both now have a current lead time of 5 to 7 months. 
The exception to this is on these granite colours: Mt. Rose, Red Deer Mahogany, and Laurentian Pink – whose lead times currently exceed 7 months. 
What factors have led to the delays?
There has been a significant increase in domestic orders, particularly with more complex pieces – such as P5 special shapes monuments, sculptures and polished margin bases – that would typically have been ordered from overseas. And these are creating a backlog in production due to the additional time they require to create.
Quarries and plants are facing a serious shortage of available workers (a knock-on effect of the pandemic), and this is also a big issue – with not enough labour coming into the workforce to fill the gaps. There's also been a drop in the availability of trucks to ship raw material and finished product.
All of which has created the perfect storm for delays. Which brings us too…
The benefits of ordering ahead of time
We know it's not always easy to plan ahead – that sometimes you need something, and you need it now. However, in the current climate, the benefits of ordering granite ahead of time can mean the difference between a completed or postponed project.
Getting your orders to us well in advance – 7 to 8 months ahead of time, being optimal – will result in successful projects and happy clients. Consider placing an order in October or November and have it arrive just in time for spring sales. 
We've got this
Just to reassure you, we're constantly monitoring the current situation so as to minimize disruption to your orders. We hope the above information has been helpful but if you have further questions, please don't hesitate to get in touch.
Contact us today
Did you know that we at HGH Granite have been providing granite services all over Ontario for the last 90 years? Our vision and business model have helped build a loyal customer base that relies on our expertise and quality workmanship. Over the years, our team has grown with like-minded individuals that share the same passion for providing outstanding granite products and services. Let us help build you your vision today.