Family owned and operated, HGH Granite has been in the industry since 1929. It's safe to say that we've become experts in the field and have a special ability to display the natural beauty found within granite. We import our stone from four continents and supply our diverse clientele with the highest quality granite on the market. Beginning in the early 20th century with a focus on memorials, we've branched out and expanded our customer base to include the likes of architects, landscapers, municipalities, and more. Along with importing and exporting, we also provide proficient granite services in Ontario. In this post, we'll discuss some of the ways that we stand out from our competitors and the process of some of our skills and techniques.
Whether it's a monument, memorial, or an architectural feature, when your granite gets damaged, you can't just leave it alone. Through our years (nearly 90), we've gained quite a bit of knowledge about granite. While repair might sound easy, it actually takes a keen eye and a steady hand to properly fix any scratch, chip, or overall damage. Our knowledgeable and skilled stoneworkers will first carefully assess the damage and use their expertise and advanced tools to rectify any damage and have your granite appear as if nothing had ever happened.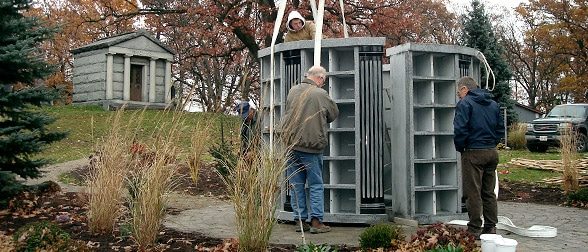 We've seen some oddly shaped and extremely heavy stone works over the years, and have always been able to install them without a hitch. Obviously, this is an extremely delicate and important process and needs to be handled with care. If something were to happen during the installation, it's unlikely that even our experts would be able to restore it. With our knuckle-boom crane, we ensure the safe delivery of your granite project, whether it be a large monument or a unique landmark. Once delivered, we will meticulously place it in its new environment so that it may be enjoyed for years to come. By using our granite delivery and installation services, you can rest assured that your project will safely arrive at its destination.
Granite can be likened to an artist's canvas. With skill, imagination, and years of experience, the stone can be transformed into a true piece of art. This is evident when you witness our laser etching process. By using lasers to engrave the stone, our cutting-edge machine is able to remove the surface colouring and polish of the granite to reveal the lighter shade found beneath. With the laser being exceptionally precise, we have the ability to create complex and photorealistic images. This process is most commonly used for creative architectural features, but also for unique granite landmarks and monuments.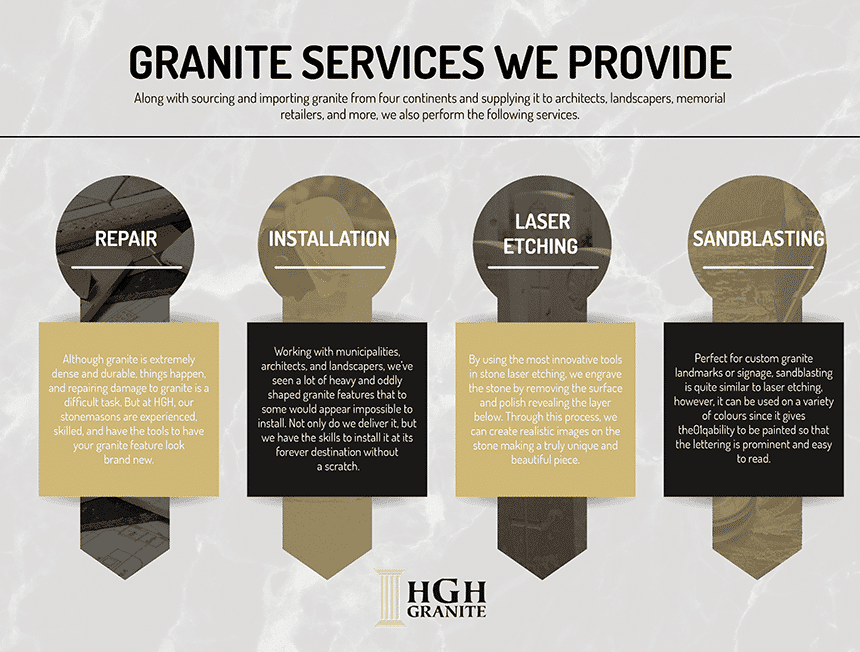 Similar to laser etching, sandblasting removes the polished surface of the granite and gives us the ability to create lettering and designs at the depth of your choice. However, while laser etching is best used on darker coloured granite, sandblasting can be used a wider variety of colours since it can be painted for prominence to have your lettering really stand out. This technique is ideal for a custom granite memorial, landmarks, or even for signage in residential and commercial signage. Our knowledgeable stone masons are able to create unique and beautiful engravings for you through our sandblasting process, we guarantee you will not be disappointed with the final product.
HGH Granite
At HGH Granite, it seems as if every year we expand our services, and the breadth of our clientele. We began by strictly providing our services to monument retailers, but now we serve the art, architecture, and landscaping community with our custom stonework. Whether you're looking for a headstone that will endearingly reflect the personality and life of a lost loved one or are working on a large architectural feature that really needs to stand out, we are the ones to call. With our wide array of granite to create custom projects, and our years of experience, we're extremely proud of the product that we provide our customers. If you have any questions, concerns, or would like to learn more about our granite services, be sure to contact us now. If you know what you're looking for, send us your requirements and we'll give you a free quote. Again, we provide granite supply, repair, and installation services throughout Ontario. We look forward to doing business with you.