Granite has been used to construct some of the world's most beautiful and durable monuments, sculptures, public artworks, and landmarks – due to its versatility, natural beauty and durability. These days many granite businesses – HGH being one – are equipped with new tech and equipment to support the design process, using solutions, such as:
CAD based design progams
CNC cutting and milling
3D modelling software
But there are some projects when nothing less than the hand-sculpted work of a master craftsperson will do. At HGH, our craftspeople use the following tools regularly to create striking sculptures with natural stone:
Air Hammer: pneumatic hammers provide maximum power and are used with a selection of carbide chisels for removing layers of excess material from granite to reveal a more defined and refined pattern or design in the stone. Pneumatic hammers range in size, making them suitable for roughing large applications down to projects that require detail and precision.
Chisels: pneumatic diamond and carbide chisels are used for bushing, cutting and roughing and come in a range of sizes and styles. They are generally used in multiple steps of the sculpting process to create the shape. For the fine artistic details, a sculptor selects chisels with finer tips to allow them to carve out small, intricate areas.
Die Grinder: a sculptor will use a die grinder and attach diamond plated wheels and diamond blades to shape and create the final artistic details of a project. As the finer details take shape, using smaller sized blades allows the sculptor to produce the final definition.
A look at some of our favourite hand sculpting projects
We've had the privilege of working on a variety of iconic monuments and projects throughout our history. Here are just a few….
Maanjidowin (The Gathering), Toronto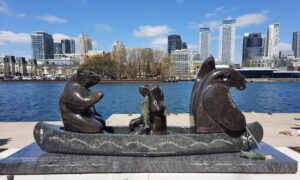 The Maanjidowin sculpture, which sits in a lofty position beside the ferry terminal that takes passengers from the Billy Bishop Toronto City Airport to downtown Toronto on the mainland, was commissioned by PortsToronto to honour the Mississaugas of the Credit First Nation and their relationship to the land, air and water (on which the airport now operates).
The sculpture – created by David M. General, Mohawk Nation, Wolf Clan of the Six Nations – features three mythical fishers who've arrived at Toronto's Lake Ontario shoreline to fish. The canoe in which they sit is inscribed with words and symbols signifying the Mississaugas' guiding principles. The animals were hand-polished in India, and HGH provided the granite and engraved the finished artwork.
Markham Veterans Square, Markham, Ontario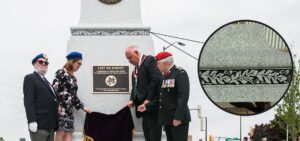 This historic cenotaph was reimagined, refurbished and unveiled as part of a new multi-functional site to honour Markham Veterans in 2018. The memorial serves as a gathering place for the community and stands tall alongside Veterans Square. We provided the granite, and our craftspeople hand-shaped each of the oak leaves.
Moccasin Identifier, Trillium Park, Toronto
Trillium Park on Toronto's iconic waterfront comprises 7.5 acres of public green space, filled with native trees, plants, flowers and beautiful sedimentary rocks and boulders. Inspired by the Ontario landscape itself, the park was designed in consultation with the Mississaugas of the Credit First Nation. The Ravine with Moccasin Identifier comprises two stone walls connected by a bridge that frames Lake Ontario and forms the gateway to the park. A celebration of First Nations' heritage and culture, the moccasin identifier engraved into the stone is a visual reminder to recognize and honour the past. HGH provided the granite on this project and our craftspeople engraved the large-scale moccasins onto the Ravine's granite walls.
Joseph Brant Museum sculpture, Burlington, Ontario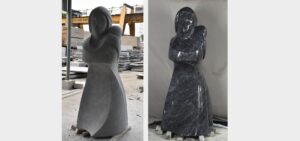 We sourced granite from our partners in India for this sculpture by indigenous artist David M General, which will sit outside the Joseph Brant Museum in Ontario. The figurines were hand-polished in India and HGH will carry out the final installation.
Hand Sculpting Inspiration
Looking for more hand sculpting examples? Take a look at the below showcase of projects HGH has collaborated on.
Contact us today
Did you know that we at HGH Granite have been providing granite services all over Ontario for the last 90 years? Our vision and business model have helped build a loyal customer base that relies on our expertise and quality workmanship. Over the years, our team has grown with like-minded individuals that share the same passion for providing outstanding granite products and services. Let us help build your vision.